Fifteen Years of Golden Legacy at the G.P.A.F.I.
Twenty years ago Bart broached the idea of putting up a foundation as a fundraising and charitable arm of an organization to a group of close friends who were active community volunteers. The ultimate goal is to recognize high achievers in the Filipino community and also raise money for the foundation's long term goals and leave a lasting legacy and a tradition that is meant to last for generations.
For no apparent reason, the plan was put in the backburner, never to be picked up or talked about again until Bart decided it was time we launched the project through PhilippineTIMEUSA News & People Magazine. It was to be the beginning of a tradition that led us into the homes and lives of many successful people.
Today, on its 15th year, the Gintong Pamana 'Golden Legacy' Awards Foundation, Inc. takes this opportunity to look back at what it had accomplished over the years and what it hopes to achieve in the coming years.
About the Awards
Recognizing and honoring achievers in their specific fields of endeavor is nothing new and has been done years ago by other organizations. But the one thing unique about Gintong Pamana is its use of names derived from Philippine history and culture that are symbolic of the qualities possessed by the awardees. Thus, Kamanyang Award was used as the title of our award in the field of Medicine. For sports, we take the Molave, a strong and hard tree akin to the qualities of an exceptional athlete. Tandang Sora is Gintong Pamana's counterpart of Florence Nightingale. The mother of the Philippine Revolution who took care of the revolutionaries, fed them, clothed them and nursed them when they were sick is certainly a powerful symbol of nursing. And so it goes on.
The Prism Award, on the other hand, is unique and the only one being given in the community. The award takes its symbolism from the prism glass whose unique beauty and dazzling colors can be likened to the charm and power of a woman. The total personality, a combination of her many qualities that make her unique, interesting and influential or powerful is the prism quality we attribute to the women.
Our Projects and Charity Works
From the net revenue of our fundraising dinner and Souvenir Book, the Profiles of Excellence, we have so far donated to the following causes:
The United Children's Fund – through a sponsorship of 30 orphans. We stopped just 2 years ago but we hope to get back into the program.
In The Presence of Jesus Ministries – Humanitarian Mission to the Philippines, Youth Ministry and Building Fund
PAMMFM (Philippine American Medical Mission Foundation of Michigan) An annual medical mission to the Philippines, headed by Dr Vickie Navarra.
Donated 1 house to Gawad Kalinga
GILAS project of AyalaUSAF _Internet accesss to the Rural High School of Gigmoto, Catanduanes
Community pages of FilAm Weekly MegaScene
Gintong Pamana Awards Night Gala Through The Years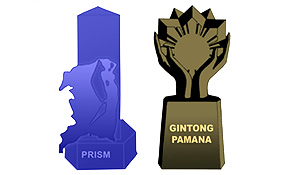 2010 Gintong Pamana Awards
***

AWARDEES ALL Plus Some Others. Seated left to right:Redempta Knotts, Martha Cabarios, Leony Mata, Dr. Salvador del Rosario (for Emilio del Rosario),Yoly Tubalinal, Dr. Connie Mariano, John Weber (Dr. Mariano's husband), Bart Tubalinal, Nelia Bernabe, Cecilia Ceniza and Dora Racal (for Carmen Perez). Standing from left: Luz Nunez & Maria Smith, former Prism Awardees, assisting with handing of trophies,Alpha Nicolasin (program host), Dr. Rodrigo Mata, Dolly Engracia, Anna Romina Guevarra, Brenda Sanagustin, Gerry Madanguit, Leticia Freihaut, Vernie Morales, Aida Trinidad and Willie Dechavez.
***
| | | |
| --- | --- | --- |
| Bart and Yoly Tubalinal. | Don Azarias & Alpha Nicolasin, program co-hosts. | Keynote Speaker, Dr. Connie Mariano with husband John Weber |
| | | |
| --- | --- | --- |
| Huge posters of award recipients, sponsors and the welcome for Keynote Speaker greeted guests as they approached the Ravinia Ballroom that evening. | Cecille Ceniza (middle), escorted by daughters Chrystal (left) and Ashley. | Brenda Sanagustin, escorted by husband Salvador. |
***
| | | |
| --- | --- | --- |
| Letty Freihaut and husband Bart, Ph.D. | Tourism Director Vernie Morales, escorted by husband Bob. | The grand entrance of Dr. Connie Mariano, escorted by husband John Weber. |
***
| | | |
| --- | --- | --- |
| Representing her company and two other partners, Dolly Engracia beamed as she received her Pilak Award in Business. | Dr. Connie Mariano, The White House Doctor, received her Kamanyang Award in Medicine with her husband, John Weber. | Dora Racal received the Tandang Sora Award for her friend Lourdes Perez, who had an accident three days before the awards night |
***
| | | |
| --- | --- | --- |
| Gerry Madanguit received his Pilak Award from Ed Verzo 1009 Gintong Pamana awardee in government service. With Gerry was wife, Rhodora. | Parents of the Year, Dr. Rodrigo & Mrs. Leony Mara received their award from Bart & Yoly Tubalinal. | Aida Trinidad received her Prism trophy as husband, Donald looked on. |
***
| | | |
| --- | --- | --- |
| From left: Aida Trinidad, Vernie Morales, Leticia Freihaut and Cecille Ceniza. | Anna Romina Guevarra received her Tanglaw Award from Dr. Maria Fe Corpuz-Bato, former Prism Awardee.. | Nelia Bernabe, Martha Cabarios, Redd Knotts. |
***
| | | |
| --- | --- | --- |
| Dr. Salvador del Rosario (4th from left) received the Anahaw award in music fo his brother who can no longer travel to accept the award himself. Olive Aliga, recipient of 2009 Anahaw award. | Apolinario Mabini awardee Willie Dechavez received his award from NaFFAA Region chair, Ed Navarra. Willie's escorts were his beautiful friends, Fe Sanagustin and Amy Rizvold (former Prism Awardee) | |
***
2009 Gintong Pamana Awards
| | | |
| --- | --- | --- |
| Tandang Sora Award in Nursing recipient, Remedios dela Cruz, received her award from 2007 Tandang Sora awardee Sofy Bole of Michigan and Ed Navarra, former GP Leadership awardee. Also on stage was Remy's husband Cris dela Cruz. | Justine Alvarez-Barnes, together with husband Dr. Mark Barnes, accepted the Gintong Ani Award for Outstanding Achievement in College for her daughter Angelica Joy Duria Delarmente. Presenters of award: Aristotle dela Cruz and Nerissa Allegretti, former Pilak Awardee in Business and Gabriela Silan Award for Community Leadership, respectively. | Rosita Lina, recipient of Lingkod-Kapwa Award for Community Service, was presented her plaque by Jerry Clarito and Angeles "Jelly " Carandang both former Leadership Awardees. Rosita's husband, Guillermo Lina witnessed the awarding. |
***
| | | |
| --- | --- | --- |
| Parents of the Year, Drs. Nunilo and Elenita Ignacio Rubio, with son, Dr. Noel Rubio were presented their plaque by FilAm Weekly MegaScene Co-Executive Publishers and Editors Bart & Yoly Tubalinal. | Lourdes Corrales flew from New Jersey to receive her Prism Award with husband Roy. Presenters of the award were 2007 Prism Awardee Nenette Lagrosa, assisted by husban RJ Lagrosa. | Ellen Dioso of Michigan received her Prism award from former Prism awardee Nina Hughes and former leadership awardee Ely Natividad while husband Engr. Sergio Dioso watched. |
**
| | | |
| --- | --- | --- |
| Alba Enriquez was presented her Prism Award by former awardees Manny Belbis (Pilak Award in Business) and Millie Gazmen (1995 Prism Award). Husband Alberto Enriquez watched. | Elizabeth Regacho received her Prism award from 2007 Prism Awardee Lourdes C. Livas, assisted by Bart Tubalinal. Elizabeth's husband, Elbert Regacho happily looked on. | Amy and Danny Castro, (3rd and 4th from left), 2007 Lingkod-Kapwa awardees with their UMFSGL group. |
***
| | | |
| --- | --- | --- |
| Introducing the Keynote Speaker Atty. Loida Nicolas Lewis was Dr. Evelyn Natividad. | Ms. Lewis with some prominent community members and leaders, among them, Dr. Noel Lasala, Jelly Carandang, Thelma Fuentes, Yoly Tubalinal, Annabelle Lasala and Bart Tubalinal. | Drs. Greg and Melinda Tolentino danced the Argentine Tango to the delight of the audience. |
***
| | | |
| --- | --- | --- |
| The wonderful emcees of GP gala awards night, Dr. Vickie Navarra and Dr. Ernest "Bong" Punzalan. | Bart Tubalinal, Jr., Consul General Blesila Cabrera, Yoly Tubalinal and Keynote Speaker, Atty. Loida Nicolas Lewis. | Melissa Barlow, Anahaw Award in Dancing, received her plaque from Drs. Greg and Melinda Tolentino as her parents, Tom and Luz Barlow looked on. |
***
Luz Vira "Tita Ging" Capio, Gintong Puso awardee, with husband Rosalino "Nonoy" Capio, Consul General Blesila Cabrera, Bart SG Tubalinal, Jr. and Loida Nicolas Lewis.

Marc Villafania received his Pilak Award in Health Management from presenters, Jun and Jocelyn Delfin, past Pilak and Prism awardees as wife Sandra Dawn looked on.

Lucerto Sagadraca and Claire Sebastian representing United Home Care, Inc. of IL received the Pilak Award in Business from 2007 recipients of Pilak Award, Pat and Fe Mangulabnan of KM Oriental Mart and Alternate Home Care, Inc.

Past Prism awardees, from left: Ting Joven, Maria Smith, Dr. Elenita I. Rubio, Dr. Evelyn Natividad, Dr. Melinda Tolentino, Millie Gazmen, Dr. Vickie Navarra, Lourdes Livas, Nenette Lagrosa, Nina Hughes and Dely Villalon.

***
***