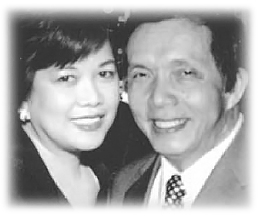 From the Publishers
"To laugh often and much. To win the respect of intelligent
people and the affection of children; to earn the
appreciation of one's critics and endure the betrayal of
false friends. To appreciate beauty, to find the best in
others, to leave the world a bit better, whether by a
healthy child, a redeemed social condition, or a job well
done. To know even one other life has breathed easier
because you lived: This is to have succeeded."

Ralph Waldo Emerson
This year, 2009, marks the 15th anniversary of the Gintong Pamana Awards Foundation, Inc. After a decade and a half of recognizing excellence and outstanding achievements of Filipino Americans who had been blessed with success, fame and fortune, we take a moment to reflect on the impact of our work and the relevance of our organization in the overall scheme of things.
What is success if it remains only as a personal achievement and serves no other purpose but self promotion and self aggrandizement? Of what use is it to those who have never had the opportunity to taste it or even just know it? What good is a person's success if it fails to touch someone or inspire anyone to become better?
In its 15th edition, Profiles of Excellence continues its tradition of publishing stories of human interest. It carries awardees' profiles that still tell of man's rise from his humble beginnings because he has the vision and the determination to achieve it. Its pages still speak of individual passion for excellence and recount people's heroic exploits. The theme remains the same except that this year, the stories of these 2009 Gintong Pamana and Prism awardees are bound by a common thread, that is, in their own special way, they each have tried to reach out to
those in need.
It is refreshing to know that the harsh economic recession has not made us calloused and deaf to the cries of those who are hurting. The dreadful aftermath of typhoon Ondoy, for example, has elicited various fundraisings in our community in support of the victims. There, too, are some minuscule pleas for help, such as our congregation's effort to help save the life of a 7-year old girl afflicted with a very rare immune system disease called, HLH (hemaphagocytic
lymphohistiocystosis). She is undergoing chemo treatment and is scheduled for a bone marrow transplantation on October 16. If you find some 'Saving Dana' envelopes on your table, please find it in your hearts to donate. As Winston Churchill once said, "We make a living by what we get. We make a life by what we give."
Finally, we thank you for being a part of this endeavor. We look forward to a joyful and meaningful awards night. May the good Lord be always with you.

Maria Dolores 'Dolly' Agduma Engracia
Dolly's World
"A life of spirituality, love, caring, compassion, creative expression and authentic being is a life of greater meaning and purpose." Dolly
Nicknamed "Dolly", Maria Dolores Agduma Engracia, leads a life with a purpose rooted in faith in God. It is faith that rises beyond the limit of just believing and moves on to living and acting , yielding to a caring, loving, compassionate and creative expression of self for others. Dolly's world today is a long way and years away from the life she knew in her hometown of Lambayong, Sultan Kudarat, where she was born.
Her parents, Don Felipe Engracia, a farmer, and Leticia Agduma., a Grade school teacher taught her to dream big, to find her purpose in life, uphold the value of compassion and keep in mind that everything happens for a reason. And from her maternal grandmother, she inherited the business acumen that would later prove crucial to holding her family together and helping everyone achieve his or her goal. Being the eldest of five siblings, she has grown to be responsible and caring early in life. Read more »

Melissa Fata
The Two Worlds of Melissa Fata
She is a successful businesswoman as she is a classically trained mezzo-soprano. She has a B.S. Marketing Management degree from De La Salle University as well as four years of formal education from the Conservatory of Music in the Philippines. She sells natural, organic foods and sings soprano in a Catholic choir at the same time.
Welcome to the two worlds of Melissa Romualdez Abiva Fata, where business meets the world of music, where exporting premiere American organic foods meets the primary cantor for weddings and funerals. In central Ohio, she juggles both roles with great panache. It's second nature.
In her two worlds, she can sing the highest of notes and land her business a plum account. In March of this year, she met with potential food importers in the Philippines when she launched her business. Among them, Robinsons Supermarket, a nationwide chain of supermarkets in the Philippines that has over 30 branches nationwide and is now a client of hers. Read more »

Bessie Erese Schiroky
The Powerhouse That's Bessie Erese Schiroky
Her resume packs a powerful punch. From any perspective, it speaks of a woman who has it all – a wife, a mother, a career woman, a community leader, a fundraiser, a medical missionary, a card dealer, a dancer, a romantic and many more. She is multi-faceted as she is stylish and a woman on the go. Bessie is blissfully married for almost 29 years to Dr. Gerhard Schiroky, holder of a Ph.D. in Material Science and Engineering and who also graduated Summa Cum Laude from Erlangen University in Germany; they have three kids and they are her pride and joy.
Oldest son Preston, now almost 25 years-old, finished high school in two years and went to college on a scholarship, finishing his B.S. in Mathematics from Brown University and his M.S. in Computational Finance from Carnegie Mellon University. He now works for UBS in New York City. Read more »

Jasmine Cristobal-Sinio
"Let us accept life for what it is. Mistakes in our journey are inevitable. Success without endeavor is impossibility itself. No work, no progress. We must welcome experience, for we can learn nothing without experience. It could either be encouraging or discouraging. But it is experience that makes us a real being, which shows the true meaning of our existence." Such is Jasmine's philosophy in life.
Jasmine Cristobal-Sinio, daughter of the late Joaquin and Juliana Jingco of Murcia, Negros Occidental, Philippines, came to the United States in 1996 – equipped with determination, skills and can do attitude and became one of the fastest rising stars in the field of Home Health industry. Read more »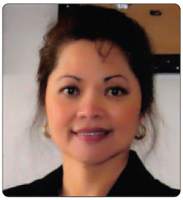 Marilou D. Tanagras
In Her Own Words
Editor's Note: I meant to either write Marilou's profile or commission one of our writers do it just like we always do with all our awardees but after seeing her well written answers to my questionnaire, I thought I'd let her tell her story instead. Marilou's honest togoodness account of her life as a young immigrant, her marriage that sadly ended in divorce, her bouts with depression and the various other challenges she met along the way as she single-handedly raised her beloved daughter and turn her life around is a lesson in perseverance, determination, healing and renewal. YT
I was born in Malabon Rizal, Metro Manila to Mr. and Mrs. Pedro Tanagras of Cavite and Bulacan, respectively and the youngest of seven children. Although I was born in Malabon Rizal, my childhood memories were mostly about Subic, Zambales where my family moved when I was 8 yrs old. Famous for its breathtaking views of the blue ocean and rich hilly mountains, Subic is located in the northern part of Luzon island. It is approximately 20 miles north of SBMA or Subic Bay Metropolitan Authority, a Freeport Zone in Zambales. Read more »

Olivia Rocha Aliga
The Musical World of Olivia Rocha Aliga
"Music speaks what cannot be expressed, soothes the mind and gives it rest, heals the heart and makes it whole, flows from heaven to the soul." – Author Unknown
Olivia Reyes Rocha Aliga's home must be filled with music all the time. Imagine for a moment the lady of the house conducting private piano and voice lessons in her music studio, being the music director of the Lombard Chorale and Winfield Community United Methodist Church in Illinois, director of the Illinois State Music Teachers Association and the University of the Philippines Alumni Association of Greater Chicago (UPAAGC) and the founder and first president of the University of the Philippines Vanguard Corps of Sponsors Alumni of America.
All that and more, music definitely wafts from all corners of her home and her life. Music is in the heart and soul of this awardee. Read more »

Dr. Jocelyn H. Bruce
Unmatched Prowess of Dr. Jocelyn H. Bruce
To say that this awardee is busy is an understate ment, hands down. Busy would not even begin to describe this tireless doctor who seems to take on everything in the name of helping others. She is a doctor after all, you'll say, but she is really superwoman with matching superpowers and a big heart.
Dr. Jocelyn Holgado Bruce is a professor of medicine (Pathology) at the University of Miami Miller School of Medicine; her research, teaching and hospital service deal mostly with nervous system disorders and pediatric pathology. She is a neuropathologist at the Jackson Memorial Hospital in Miami, Florida; and she is the founding president and current chairwoman of the National Alliance to Nurture the Aged and the Youth (NANAY), a community-based organization established in 1994 to provide supportive services to the elders and youth. Read more »

Myrna Cordero
The Many Nuances of Myrna Cordero
She is the modern-day version of Flo rence Nightingale. Her strings of pro fessional achievements speak volumes of the kind of woman that she is – dedicated, kind and compassionate, among many others.
Foremost, Myrna Viloria Cordero is a wife, a mother and a grandmother whose guiding principle in life is to live with dignity and discipline. "My dreams and plans are to live comfortably and see my children and grandchildren comfortably settled in life. I would like to see the business that I am a part of flourish so I will be of more service to the community," she said.
A nursing graduate of the University of Santo Tomas (U.S.T.) in Manila, Philippines and a semester shy in getting her post-graduate studies from De Paul University in Chicago, Myrna is currently the administrator/agency supervisor at In His Hands Home Health Inc. where she oversees the day to day operation of the agency. Read more »

Jose Limjoco Evangelista
M.D., FACC, FACP, FACCP, FRCP ©
The Amazing Dr. Joe
An Asian Journal article "Best of Both Worlds" described Dr. Jose Evangelista as "one of those rare men who not only excel in whatever they do, but also serve to make a positive impact wherever they are."
Dr. Jose Evangelista wrote in his bio "We will pass through this world only once; we ought to be sure that in that passage, we can leave footprints in the sands of time that would serve as an eloquent reminder to those following us that at one time in the past, there journeyed thru this world, men and women whose spirits were as generous as their characters were noble."
"To be successful, you have to be willing to fail. Nothing ventured, nothing gained." "Hard work, commitment and the pursuit of excellence are the essential elements to success in life and remember, whatever you do, always give it your best shot and always give people more than what they expect to get." Read more »

Dr. Amparo C. Hernandez
A Life of Service to God and her Fellowmen
Dr. Amparo Cabugwason Hernandez, who goes by her short name "Ampy," hails from the Queen City of the South – Cebu City, Cebu, Philippines. She was born on May 12, 1932, a third child in a brood of six children of humble parents: Pascuala Guangco of Cebu City, a stay home mother and Teodulfo Cabugwason of Baybay, Leyte, an elementary public school principal and teacher. As a little girl, Ampy was shy, simple and gentle. She was close to her father and always eager to learn new things. She was always a diligent and serious student that it didn't surprise her family to see young Ampy reap honors and awards early in her student life.
Ampy is married to Alberto Hernandez, a retired worker from the Illinois Department of Revenue where he worked for 25 years. Together, they are blessed with 5 children: Jose (deceased), Jonathan, a City of Chicago policeman, Jocelyn, a pastry entrepreneur, Jericho, a graphic artist and designer, and Jerome, a City of Chicago policeman. Ampy and Bert now have 5 beautiful and adorable grandchildren, all girls whom they visit frequently and spend a great deal of time with during their visits. Read more »
Gintong Puso Awardee for Humanitarian & Spiritual Service
Rev. Dr. Richard Mirpuri, A Pastor's Spiritual Journey
His calling has always been to build a church and minister to his flock, and so, armed with the eloquence of a highly learned man and the heart of a true servant of God, he braved the uncertainties of the world and embraced his reason for being, to serve his Master and his people.
Born in the Philippines of an Indian father and a Filipina mother, Rev. Dr. Richard A. Mirpuri, D.D. (Doctor Of Divinity) came to Chicago in late 2003. He came to the United States in 1991 as a missionary to the Filipino-American community for the Christian & Missionary Alliance (C&MA), a worldwide evangelical organization based in Colorado Springs. His first assignment was as the Director for Filipino Ministries of the Central Pacific District of the C&MA covering Northern California, Utah, Nevada and Hawaii. In Daly City, he founded the Jesus-Prince of Peace Christian Fellowship (C&MA) which he pastored for 7 years. He was then called to serve in a concurrent capacity as the International Director for Worldwide Filipino Ministries of the C&MA Churches of the Philippines while based in San Francisco.
Because of his background in business and his involvement with the pharmaceutical industry as Regional Manager for Roche in the Philippines, he served brief stints as District Manager for AstraZeneca in Arizona and as District Manager for GlaxoSmithKline for Chicagoland while he was pioneering church work in Chicago. Very often, church planters like Rev. Mirpuri have to be bi-vocational in the ministry until the church being pioneered becomes financially independent. He also served, while in the Philippines, as Regional Manager for Union Carbide and as Vice-President & Marketing Director for Snap-On Tools, an international tool company based in Kenosha, Wisconsin. Read more »