MANILA — Pope Francis has condemned the "senseless attacks" that killed at least nine civilians in Southern Philippines recently.
In a telegram sent to Cardinal Orlando Quevedo of the Cotabato Archdiocese by the Pontiff's Secretary of State Cardinal Pietro Parolin, the Holy Father said he was saddened by the killings.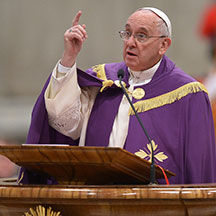 "The Holy Father was deeply saddened to learn on the senseless killing of innocent people in Mindanao, and he sends condolences to the families of those who lost their lives," the statement read.
It was reported that the Bangsamoro Islamic Freedom Fighters (BIFF) killed seven farmers and two other civilians in Sultan Kudarat, Maguindanao and North Cotabato provinces on Christmas eve.
Responding Army soldiers also killed four rebels in the Sultan Kudarat attack.
The Pope is hoping that security and safety "will be established" in the troubled region "so that dialogue, tolerance and peace may enable each person to live free from fear."
"He asks all believers to reject violence in the name of God who is love, and invokes abundant divine gifts of consolation, mercy and strength upon those affected by this tragedy," added the statement.
At the same time, Pope Francis also called on the faithful to join him in praying for the victims and their families.
In 2010, the BIFF separated from the mainstream Moro Islamic Liberation Front (MILF) due to disagreements over the peace deal with the government to end up the long decades of turmoil in Mindanao.