President Aquino has appointed and sworn in actor Dingdong Dantes as commissioner of the National Youth Commission.
Dantes was sworn in in ceremonies in Malacanang and was accompanied by his fiancee, actress Marian Rivera.
Dantes and Rivera are scheduled to be married at the Immaculate Conception Cathedral in Cubao, Quezon City on December 30.
Dantes chose the cathedral because he grew up in the community and used to attend mass in the church.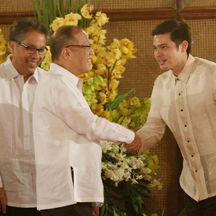 The actor proposed to marry Marian on nationwide television during her program "Marian" on GMA Channel 7, keeping their fans and netizens abuzz with the good news.
Dantes was sworn in along with other commissioners of the National Youth Commission. They are Chairman Gregorio Ramon Tingson; Commissioner Jose Rafael Cruz; Commissioner-at-Large Jose Sixto Gonzales "Dingdong" Dantes III; Commissioner representing Luzon Percival Cendaña; Commissioner representing Visayas Jo Jan Paul Peñol; and Commissioner representing Mindanao Earl Saavedra.
Other officials inducted during the oath taking ceremonies in Malacanang were undersecretary were Emmanuel Bautista of the Office of the President; Jose Lius Alano of the Office of the Executive Secretary; Prudencio Reyes, Jr. and Nora Terrado of the Department of Trade and Industry; Donato Marcos of the Department of Energy; and Jan Co Chua of the Presidential Communications Operations Office (PCOO).
Sworn in as assistant secretary were Victor Batac of the Office of the President; Jose Ernesto Gaviola of the Department of Transportation and Communications; Virgilio Nadal, Jr. of the PCOO; Myrna Chau and Maxine Tanya Hamada of the Department of Budget and Management.
Other government officials who were sworn in were Acting Administrator Alexander Pama of the Office of Civil Defense, Department of National Defense; Commissioner Blas James Viterbo of the Security and Exchange Commission, Department of Finance; Commissioner Jose Fabia of the Commission on Audit; Jose Gabriel La Viña as member of the Board of Directors of the Philippine International Trading Corporation; and Andres Ibarra as member of the Board of Trustees of the Local Water Utilities Administration.
Also inducted were the Chairpersons for the National Peace and Order Council for different regions in the country: Pasay Mayor Antonino Calixto representing the National Capital Region; Dagupan Mayor Belen Fernandez for Region I; Quirino Province Governor Junie Cua for Region II; Nueva Ecija Governor Aurelio Umali for Region III; Palawan Governor Jose Alvarez for Region IV-B; Iloilo Governor Arthur Defensor, Sr. for Region VI; Cebu Governor Hilario Davide III for Region VII; Zamboanga del Norte Governor Roberto Uy for Region IX; Catanduanes Governor Aracelli Wong for Region X; South Cotobato Governor Daisy Avance-Fuentes for Region XII; Calbayog City of Western Samar Mayor Ronaldo Aquino for Region VIII; and Butuan City Mayor Ferdinand Amante, Jr. for the CARAGA Region.
Sworn in as Chairpersons for the Regional Peace and Order Council under the National Economic and Development Authority were Bulacan Governor Wilhelmino Sy-Alvarado for Region III; Albay Governor Jose Ma. Clemente "Joey" Salceda for Region V; Bohol Governor Edgardo Chatto for Region VII; and Surigao del Norte Governor Sol Matugas for Region XIII (CARAGA